You may wonder, "Why do I need an SSL certificate if my website can run without it?", and "How does it benefit me". This article is all about it.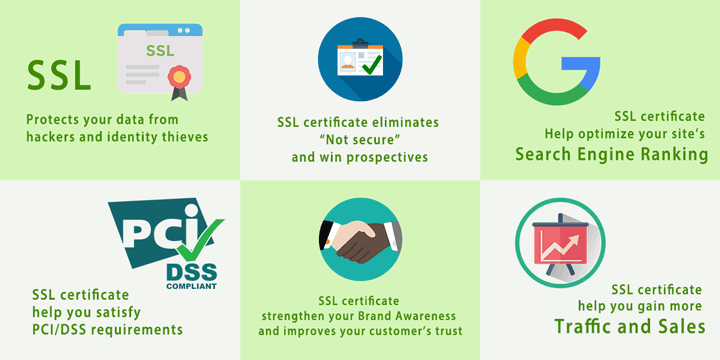 Let's get more into it.
· Data protection
SSL is an encryption process. It encrypts data that passes through between your website and your site visitor's browser. What kind of data does it protect? For example,
your addresses, Credit card numbers, Usernames, password, Emails and passwords, web forms, any data communication, etc. When SSL is installed on a web server, it enables the padlock to appear in the web browser and activates the HTTPS protocol to secure the connection between the web server to a browser. It does this by using encryption algorithms to scramble the data in transit into an undecipherable format that can only be read with the proper decryption key.
· Seeing a "Not Secure" Warning in Browser?
The "Not Secure" warning means there is a lack of security for the connection to that page. It's alerting you that information sent and received with that page is unprotected and it could potentially be stolen, read or modified by attackers, hackers and entities with access to internet infrastructure (like Internet Service Providers (ISPs) and governments).
The "Not Secure" warning is being displayed on any page served over HTTP, which is an insecure protocol. If you are seeing this warning on a site you own or operate, you should resolve it by enabling the HTTPS protocol for your site.
· A better Search Engine Ranking against those "Not secure"
While building backlinks and testing on-page content for an SEO boost takes time, getting an SSL Certificate is fast and easy and the SEO boost is immediate. With Google making a push to encourage a safer Internet by giving an SEO ranking boost for sites using SSL, now is the time to buy an SSL Certificate for search rank boost.
Take advantage of an easy way to get your site above your competitors.
· SSL certificate - Encryption for PCI Compliance
Payment Card Industry compliance is mandatory. You can' escape it. This is not just applicable to credit card companies but also to all companies that process online payments.
Failure to encrypt credit card data can result in fines and civil damages in the millions
of dollars. PCI and applicable laws require the encryption of cardholder data through the use of SSL/TLS certificates.
· Your brand, your Credibility
Certificate Authority (CA) must go through a complete validation process for Organization and Extended validation certificates. That means once your/organization's identity is verified, your website gets trust indicators, and your users and prospective see them, and they are talking to the right person. You thus strengthen your brand awareness and reputation.
· More traffic and Sales.
The massive market survey showed nearly 30% of all cart abandonment is due to a lack of a security guarantee. On the contrary, at a website with SSL certificate, the customer has more cart check out rate, thus brings in more sales.
In a nutshell, SSL certificate is no longer an option but essential. It not only protects the data in communication, but also it benefits your business in many ways.